The Marathon and Half Marathon: A Training Guide
Graeme's first book, "The Marathon and Half Marathon: A Training Guide" published back in 2007, has now gone on to be one of the bestselling endurance running books in the UK.
Used and "flicked through" regularly by Newsreader and prolific marathon runner Sophie Raworth, the book was republished in 2014 with additional training and injury prevention guidance.
With over 40,000 copies sold worldwide, the book has attracted over 60 four and five star reviews on Amazon and sales continue to grow in the UK and overseas.
With topics covering everything you need to know about how to prepare for a half or full marathon, this easily accessible book is a must for anyone looking to take on their first - or fastest - endurance race.
Available as a paperback or as an ebook.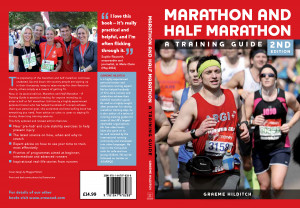 I got into long-distance running in a big way after having children. I've done several marathons and lots of other shorter races.I love this book - it's really practical and helpful, and i'm often flicking through it

BBC Newsreader Sophie Raworth
5k and 10k: From Start to Finish
Following the success of "The Marathon and Half Marathon: A Training Guide" Graeme was approached by world famous publishing house Bloomsbury (think Harry Potter), to write a book on how to train for 5k and 10k events.
Beautifully designed and packed with cutting edge information on how to take non-runners from their first intrepid steps to their last, the book attracted Cancer Research's "Race for Life" to team up with Bloomsbury and work together for the benefit of their runners.
With 10p from every copy going to Cancer Research "5K and 10k: From Start to Finish" is an engaging and highly informative book that every new runner should own to help them learn the basics of running but above all - how to enjoy it!
Following the popularity of the book in the UK, "5k and 10k: From Start to Finish" has attracted the interest of several international publishing houses.
To date, the foreign rights have been purchased by Denmark and Poland, with the book translated into their respective languages.
Update: Bloomsbury have recently confirmed that the foreign rights have just been sold to China. The translated version will be available in 2017
Available as a paperback or as an ebook.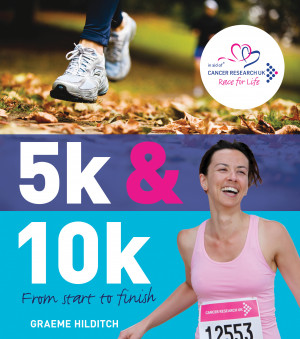 When it comes to getting into gear for long runs, personal trainer Graeme Hilditch is your go-to man. He's crammed his know-how into his '5K & 10K: From Start to Finish

Easy Living Magazine
Trail Running: From Start to Finish
Following the success and popularity of "5k and 10k: From Start to Finish," Bloomsbury asked Graeme to write another book for them covering the growing running discipline Trail Running.
The Popularity of Trail Running has sky rocketed in recent years, as runners are attracted to the lure of fresh air and the open Countryside. With far less emphasis and pressure on the need to run fast, the ethos of Trail Running is to embrace your surroundings and explore spectacular trails. The views runners experience when hitting the trails in the UK or abroad, makes many wonder why they didn't take up trail running sooner.
"Trail Running: From Start to Finish" is packed with information, covering everything runners need to know on how to make the transition form the road to the trails. With beautiful imagery and a wide range of topics such as nutrition, conditioning, navigation and injury prevention, it's no wonder legendary Trail and ultra running champion Scott Jurek put his name on the book.
As well as strong sales in the UK, the foreign rights have also been sold to Italy, with the Italian version of the book due out in 2016.Available as a paper back or e-book.
A wealth of information so the novice or veteran runner can be prepared to hit the dirt and carry on with the adventure of the trail'

Scott Jurek, champion ultramarathoner and international bestselling author of Eat and Run.
From Flab to Fab
Rebranded from - "Is it just me or are sit-ups a waste of time?" "From Flab to Fab" was Graeme's first book away from the subject of running.
Drawing on his wealth of knowledge of exercise physiology and nutrition, as well as his vast experience as a Personal Trainer, "From Flab to Fab' helps to debunk the many myths people hold about diet and fitness.
Questions such as " Will sit-ups give me a flat stomach", "Does beer actually give you a beer belly?" and "Are carbs actually as fattening as some people say they are?" are all answered in this short, sharp and lighthearted read.
With extracts printed in national newspapers such as The Daily Mail and The Independent, "From Flab to Fab" drew a lot of media attention.
Invited onto dozens of radio shows to talk about the book and do live phone-in's, Graeme and his book have helped to bust a plethora of common fitness and diet misconceptions.
Available as a paperback, and e-book and an audiobook.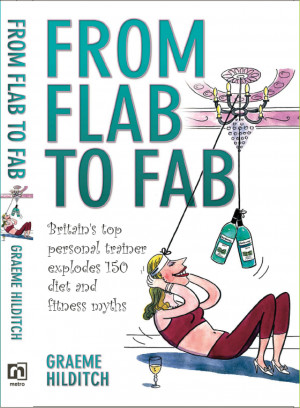 This is a good book, that firmly debunks many myths, and instead guides readers to the underlying truth

Dr Peter Davies
Superstar Fitness
When one of the UK's biggest published of mass market non-fiction books approaches you to write a book, there is only one answer.
John Blake are word renowned for publishing classic, general interest books. So when they came they came up with the idea of producing a book on how an everyday fitness enthusiast can emulate the training practices of the worlds leading footballers on a shoe string, Graeme was both flattered and humbled when he was asked to write it.
Featuring little know secrets on how to give your fitness that extra edge, Superstar fitness is a perfect bedtime read for anyone who wants to get in great shape, for football or any sport.
With input from Premier League fitness coaches, Superstar Fitness can help anyone go from zero to fitness hero in just a few months.
Available as a paperback.